Anton Sroka
Prof.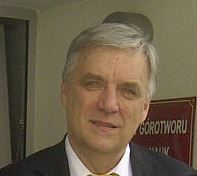 sroka@imgpan.pl
He has served as Professor at TU Clausthal (Germany) and TU Bergakademie Freiberg (Germany) and as Expert at Deutsche Steinkohle AG (Germany). He holds the title of professor of technical sciences, habilitation in mining, PhD and MSc in mine surveying from AGH University of Science and Technology (Poland). He is a member of the International Society of Mine Surveying, International Society for Rock Mechanics (ISRM) and International Society for Soil Mechanics and Foundation Engineering.
Professor Anton Sroka is graduated from Mining Surveying at the AGH University of Science and Technology in Krakow (1971). At this university, in 1975 he obtained the degree of doctor of technical sciences, and in 2000 — the postdoctoral degree in the field of mining geomechanics (habilitation). In the period 1971-1980, assistant, senior assistant and adjunct at the Faculty of Geodesy Surveying at AGH. In 1980, he left Poland. In the years 1982-1984 he was a teaching and didactic assistant, and in the years 1984-1990 a professor at the Technical University of Clausthal/Lower Saxony. In the period 1990-1999 he worked in the coal concern Deutsche Steinkohle AG, being responsible for planning mining exploitation in the sense of minimizing its impact on the surface and rock mass, in the sense of minimizing induced seismic, and managing the research of the group in the above-mentioned scope. In 1999, he was appointed full professor in the field of Mining Surveying and Mining Damage at the Technical University Bergakademie Freiberg/Saxony. From 2003 to 2013 he was director of Mining Surveying and Geodesy Institute at TU Bergakademie Freiberg. He was also the dean of the Faculty of Earth Sciences, Geotechnics and Mining (2006-2009) and the director of the training and experimental mine "Reiche Zeche" and "Alte Elisabeth" in Freiberg (2005-2012). In April 2013, he retired, retaining the position of a member of the TU Bergakademie Freiberg and still being its lecturer.
Professor Sroka is the author and co-author of more than 200 publications in the field of mining geodesy, geotechnics and mining geophysics as well as calculation methods, dozens of scientific and research topics and many projects and implementations for the mining industry. Professor Sroka was a supervisor in 20 completed doctoral theses and a reviewer of more than 20 doctoral theses.
He is the organizer or co-organizer of traditional scientific sessions at the TU Bergakademie Freiberg, such as Geokinematic Days (Geokinematischer Tag) and Problems of Old/Finished Mining (Altbergbau-Kolloquium). Since 2008, he has been employed as a professor at Strata Mechanics Research Institute Polish Academy of Sciences (IMG PAN) in Cracow. In 2012, he received the title of professor of technical sciences from President Komorowski. Since mid-2013, he has been a full professor at the IMG PAN in Krakow.
The subject of his scientific and research work and expert opinions carried out on behalf of the mining industry or state offices of many countries concerns mainly the calculation of terrain and rock deformation and their impact on objects surface in case of, e.g.:
exploitation of coal deposits, salt and iron and copper ore,
fluidized bed exploitation (oil, gas and sulphur deposits),
deformation over the construction of tunnels,
deformation over cavern fields for storing liquid and gaseous energy resources,
terrain deformation in the deep geothermal region and,
uplifts of the area when the closed mines are flooded.