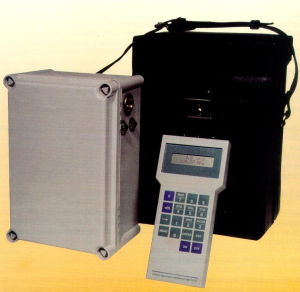 A portable absolute pressure meter μBAR is intended for use in absolute air pressure measurements, particularly in underground mine workings. The device effects very accurate pressure measurements. It incorporates a sensor SETRA 470, manufactured by an American company Setra. The absolute pressure meter μBAR may be well applied in routine pressure measurements taken by the ventilation teams in mines and in field experiments for research purposes. A microprocessor recorder registers and stores the measurement data in the internal memory and allows the data to be uploaded to a computer, for further processing. Besides, it enables reading off the current pressure values, time and data logging (with the use of an integrated real time clock) and assignation of identification tags.
Measurement data can be utilised to determine the aerodynamic potential and locate depression points within the ventilation network, thanks to excellent time stability of the sensor SETRA 470.
Technical data:
measuring range: 800 ÷ 1 300 hPa/mbar,
measurement resolution (real): 1 Pa,
uncertainty: ± 10 Pa (± 0.02% FS where FS = 500 hPa),
nonlinearity: ± 0.012% FS (endpoint),
hysteresis: 0.010% FS,
time stability: < ± 0.005% FS dla 24h,
sampling frequency: 1 Hz,
memory capacity: 100 833 samples for continuous recording 2 322 samples with identification tags,
time interval in data recording: 1 ÷ 3 600 s (Δt = 1 s),
intrinsic (spark-proof) safety category*: Exia I DB Nr 95.191W, IP54 Exia I DB Nr 95.192W, IP54,
WUG (State Mining Authority) Approval*: L.dz. GEM-1634/4404/2/95/Re,
WE certificate: none,
serial interface: RS232,
power supply: battery,
operating time: 18 h,
housing protection level: IP54,
dimensions: 240 x 330 x 160 mm,
weight: 5.5 kg.
* designations other than currently in force
Standard equipment:
leather case,
battery charger,
User's Manual,
calibration certificate,
interface RS 232 + software for reading the measurement data.
NOTE:
When measurements are to be taken in areas threatened by the presence of methane, the absolute pressure meters μBAR have to be operated only by qualified and trained personnel, equipped with individual methane concentration meters, in accordance with the operating manual approved by duly authorised mine supervision officer.
INFORMATION: PhD Eng. Janusz Kruczkowski