VERY IMPORTANT

Dear Customers,

At the end of 2022, we have ended the production of mAS4 series anemometers, which had been in progress since 2006.  We are grateful to all of our customers, and we are glad that we could provide you for such a long period of time, a device that meets your professional requirements.

It's time for a change !

 The unflagging interest in our anemometers has led us to develop a new instrument. In the second half of 2023, we intend to launch the mAS5 anemometer, which is even more superior and even more reliable than the mAS4 anemometer. Please be patient for a moment and we hope that you will continue to be a customer of our anemometers. We meet the highest metrological requirements and exceptional quality standards.
Vane anemometer μAS4 is a professional, hand-held device for measuring the flow velocity of air or other gases, enabling the measurement of instantaneous or average velocity. It can be also used as volumetric flow rate meter. It offers excellent metrological features being the result of advanced technologies of vane fabrication and the use of high-grade, acid-resistant steels to manufacture the sensor. To guarantee the highest quality and to satisfy the lowest uncertainty criterion, the sensor components are made on the state-of-the-art CNC machining centres. This anemometer is intended for use in adverse environmental conditions, particularly in deep mines. To guarantee reliable measurements of flow velocity and volumetric flow rates, the device is designed to interact with an extension rod enabling the control via a button in a handle. The anemometer has been designed to be used in deep mines, so it performs really well in all industrial sectors on the surface. Vane anemometers μAS4 are now in widespread use in the Czech Republic, Romania, England, the USA, Turkey.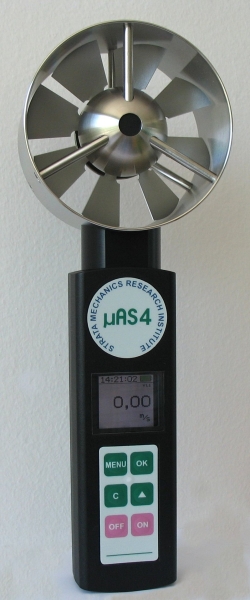 Technical data:
measuring range: 0.20 ÷ 20.0 ms-1,
minimal measurable velocity: 0.17 ± 0.01 ms-1,
uncertainty: ± (0.5%rdg + 0.02 ms-1),
sampling frequency: 1 Hz,
velocity averaging time: from 2 s to 10 h,
maximal cross section surface area: 99.9999 m2,
selection of units: ms-1, m3s-1, m3min-1, m3h-1,
memory capacity: 18 h of instantaneous value measurements,
measuring head diameter: 100 mm,
intrinsic (spark-proof) safety category:

I M1 EEx ia I,
II 2G Ex ia IIB T4,
II 2D Ex iaD 21 IP65 T110°C.

WE certificate: KDB 06ATEX121X,
sensor material: acid-resistant steel 1.4306/1.4404,
data transmission interface: IrDA SIR,
display: graphic LCD, 4096 colours, 128 x 128 pixels,
power supply: battery Ni-MH 4.8 V/0.7 Ah,
continuous operation time: 50 h,
dimensions: 289 x 60 x 100 mm,
weight: 0.66 kg.
Standard equipment:
leather case,
battery charger,
IrDA interface,
PC Windows software for data uploading,
calibration certificate issued by the duly accredited IMG PAN Laboratory of Calibration of Measurement Devices for Ventilation,
User's Manual - DTR.
In the software supplied to the user certain functions are disabled, including the change of the characteristics and of the operating mode as set by the manufacturer.
Additional equipment:
extension rod WK6 with a START/STOP button and a rotating attachment.
INFORMATION: PhD Eng. Janusz Kruczkowski