The monitor for the stationary anemometer MPP allows the read-out of measurement data from the anemometer, visualisation of volumetric flow rate variations and optical signalling of emergency states. The monitor is connected to the anemometer via a cable with plugs on both ends. The monitor is a plug-and-play device. Working parameters of the monitor are programmable using the dedicated software supporting the MPP anemometer operation. The monitor for the stationary anemometer MPP LCD is designed to interact with the MPP anemometer exclusively.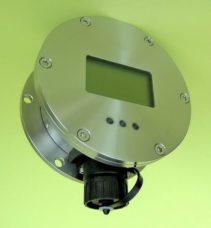 Technical data:
power supply from the anemometer MPP: U = 3.3 VI = 0.003 A,
data transfer standard: RS485,
display: graphic display LCD STN 128 x 64 px,
optical signalling device: 3 x LED (red),
data on display:

velocity [m/s],
volumetric flow rate [m3/h] or [m3/min],
temperature,
exceeded limit indicator,
flow reversal indicator,
plot of volumetric flow rate from 2, 8 or 24 hours.

intrinsic (spark-proof) safety category: I M1 EEx ia I, II 1GD Ex ia IIB T6,
WE certificate: under way,
manufacturing material: acid-resistant steel 1.4306/1.4404,
housing protection: IP 65,
dimensions: 131 x 114 x 51 mm,
weight: 1.3 kg.
Standard equipment:
connecting cable 5 m,
User's Manual.
The sole distributor of the monitor MPP LCD is the Automatic System Completion and Assemblage Company "CARBOAUTOMATYKA" SA.
INFORMATION: PhD Eng. Janusz Kruczkowski